Group leader: Sebastiaan van Heesch
"We're diving into an unexplored world of novel small proteins whose existence until recently was completely unknown. It's the 'dark matter' of the cancer proteome."
Sebastiaan van Heesch - Group leader
Identification and characterization of novel microproteins in pediatric cancer
Using state-of-the-art genomics and proteomics technologies, we have recently discovered thousands of microproteins translated by ribosomes from presumed long noncoding RNAs (lncRNAs) in human tissues (van Heesch et al., Genome Biol 2014, van Heesch et al., Cell 2019, Gaertner & van Heesch et al., eLife 2020). As none of these proteins were known to exist, this vastly expanded the human proteome and created a wealth of novel protein functions to investigate.

Because of their small size, microproteins can be potent influencers of all kinds of cellular processes and pathways - including those important for cancer. However, for most microproteins their precise function and behavior in disease are not known. The aim of the Van Heesch group is to identify and characterize microproteins with important roles in pediatric cancer and devise therapeutic strategies to target them.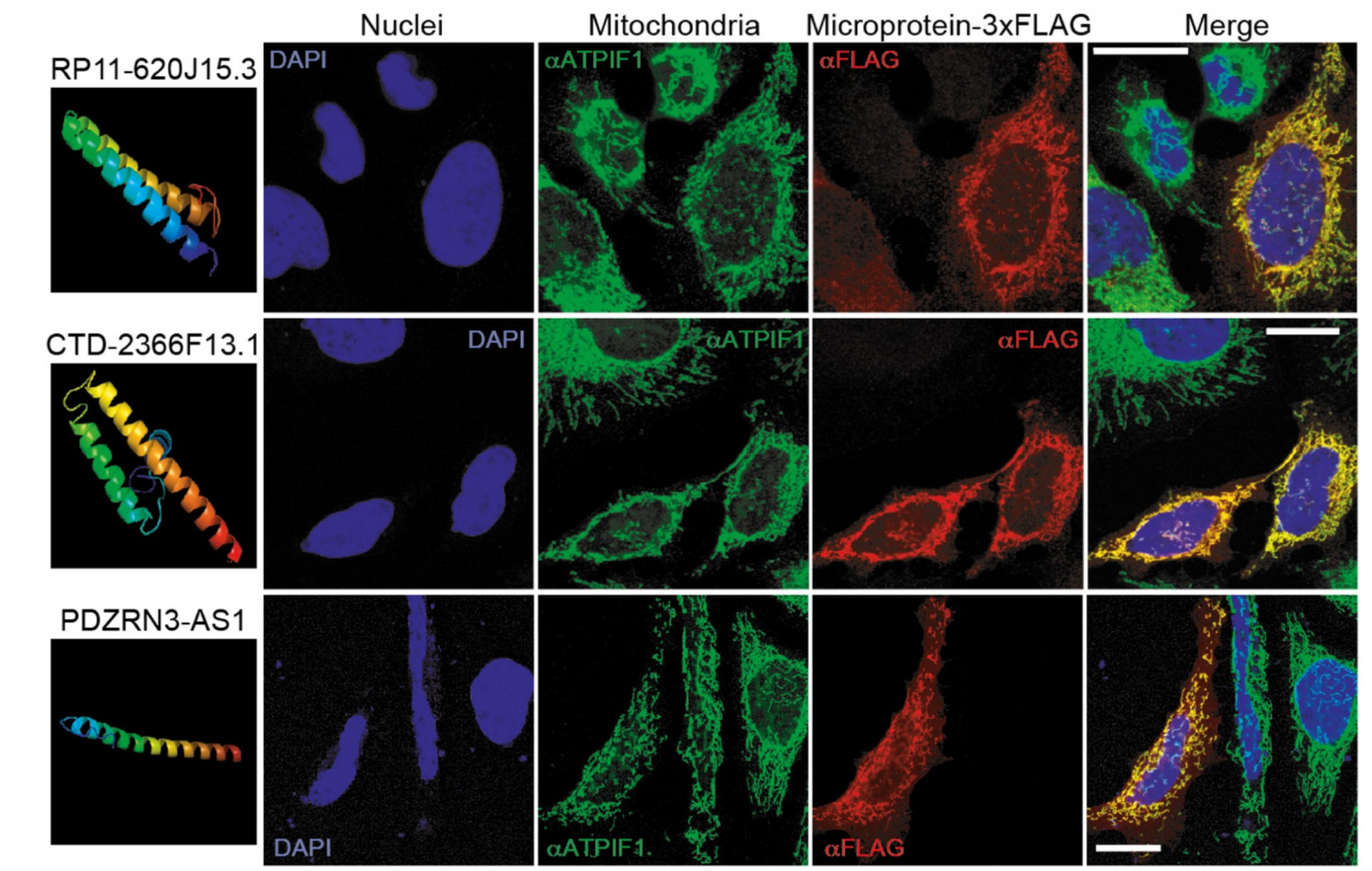 Figure: three examples of newly discovered microproteins produced from long noncoding RNAs, and their predicted alpha-helical 3D structures.
Localizing to the mitochondria, these microproteins can influence vital cellular processes such as energy metabolism. Source: van Heesch et al., Cell 2019
Key to the detection of these small proteins is the ribosome profiling (or Ribo-seq) technology, which helps us visualize the (parts of) RNA molecules used in a cancer cell for protein synthesis. Interestingly, some of the lncRNA genes that produce microproteins have previously been implicated in cancer. Still, it remains unclear whether the RNA or the microprotein is responsible for the cancer-related functionality. To answer these and other open questions, we apply and integrate state-of-the-art genomics, transcriptomics, translatomics and proteomics technologies, which we combine with targeted knockout and knockin (CRISPR/Cas9), subcellular localization and interactome analyses to fully understand each microprotein's mechanism of action.


"To fight cancer, we create personalized catalogues of all mistakes a cancer cell makes while producing protein. We then use these tumor-specific errors against the tumor through targeted (immune) therapies."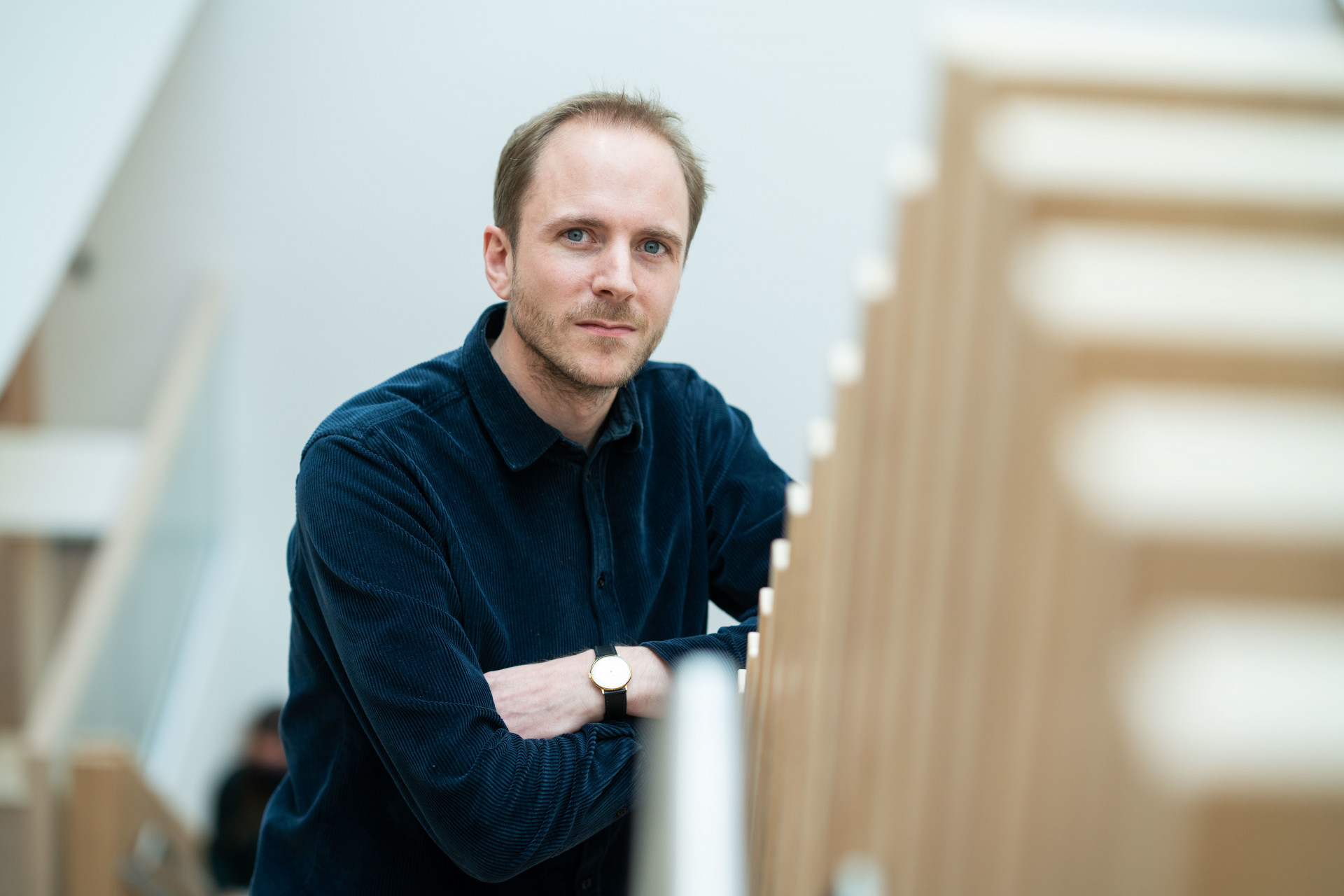 Exploring the tumor-specific translatome for immunotherapy
Immunotherapy has revolutionized the treatment of cancer in adults, but its application to childhood cancer is still very limited. As part of the Princess Máxima Center's broader strategy to develop immune therapy options for pediatric cancer patients, the Van Heesch group will focus on the identification of pediatric tumor-specific epitopes that can subsequently be targeted with immunotherapy.

To find the best targets, we use a combined genome (DNA), transcriptome (RNA) and translatome (protein production) monitoring strategy for solid tumor tissue and patient-derived organoids. Even in the absence of extensive genetic variation, this approach can yield epitopes specific to the tumor that arise through aberrant RNA translation activity by ribosomes. The aim is to catalogue these differences in translation in personalized, patient-specific databases, from which we select the most promising, tumor-specific peptides for targeting.



Key publications
Witte F, Ruiz-orera J, Mattioli CC, Blachut S, Adami E, Schulz F, Schneider-lunitz V, Hummel O, Patone G, Mücke MB, Šilhavý J, Heinig M, Bottolo L, Sanchis D, Vingron M, Chekulaeva M, Pravenec M, Hubner N, van Heesch S$. Trans control of cardiac mRNA translation in a protein length-dependent fashion. (2020) BioRxiv 133298.
$Senior & corresponding author
Gaertner B*, van Heesch S*, Schneider-lunitz V, Schulz JF, Witte F, Blachut S, Nguyen S, Wong R, Matta I, Hubner​ N, Sander M. A human ESC-based screen identifies a role for the translated lncRNA LINC00261 in pancreatic endocrine differentiation. (2020) eLife 2020;9:e58659. PubMed PMID: 32744504
*Co-first author
van Heesch S$, Witte F, Schneider-Lunitz V, Schulz JF, Adami E, Faber AB, Kirchner M, Maatz H, Blachut S, Sandmann CL, Kanda M, Worth CL, Schafer S, Calviello L, Merriott R, Patone G, Hummel O, Wyler E, Obermayer B, Mücke MB, Lindberg EL, Trnka F, Memczak S, Schilling M, Felkin LE, Barton PJR, Quaife NM, Vanezis K, Diecke S, Mukai M, Mah N, Oh SJ, Kurtz A, Schramm C, Schwinge D, Sebode M, Harakalova M, Asselbergs FW, Vink A, de Weger RA, Viswanathan S, Widjaja AA, Gärtner-Rommel A, Milting H, Dos Remedios C, Knosalla C, Mertins P, Landthaler M, Vingron M, Linke WA, Seidman JG, Seidman CE, Rajewsky N, Ohler U, Cook SA, Hubner N. The Translational Landscape of the Human Heart. (2019) Cell 178(1):242-260.e29. PubMed PMID: 31155234
$Senior & corresponding author
van Heesch S, van Iterson M, Jacobi J, Boymans S, Essers PB, de Bruijn E, Hao W, MacInnes AW, Cuppen E, Simonis M. Extensive localization of long noncoding RNAs to the cytosol and mono- and polyribosomal complexes. (2014) Genome Biology 15(1):R6. PubMed PMID: 24393600
van Heesch S, Simonis M, van Roosmalen MJ, Pillalamarri V, Brand H, Kuijk EW, de Luca KL, Lansu N, Braat AK, Menelaou A, Hao W, Korving J, Snijder S, van der Veken LT, Hochstenbach R, Knegt AC, Duran K, Renkens I, Alekozai N, Jager M, Vergult S, Menten B, de Bruijn E, Boymans S, Ippel E, van Binsbergen E, Talkowski ME, Lichtenbelt K, Cuppen E, Kloosterman WP. Genomic and functional overlap between somatic and germline chromosomal rearrangements. (2014) Cell Reports 9(6):2001-10. PubMed PMID: 2549710
Low TY*, van Heesch S*, van den Toorn H*, Giansanti P, Cristobal A, Toonen P, Schafer S, Hübner N, van Breukelen B, Mohammed S, Cuppen E, Heck AJ, Guryev V. Quantitative and qualitative proteome characteristics extracted from in-depth integrated genomics and proteomics analysis. (2013) Cell Reports 5(5):1469-78. PubMed PMID: 24290761
*Co-first author


Schneider-Lunitz V*, Ruiz-Orera J*, Hubner N$, van Heesch S$. Dual-function RNA-binding proteins influence mRNA abundance and translational efficiency of distinct sets of target genes. (2021) BioRxiv 2021.04.13.439465