Group leader: Prof.dr. Leendert Looijenga
Phone
+31 (0) 88 972 5211
Germ Cell Tumors (GCT) are historically considered to be highly heterogeneous and complex, both regarding origin, histological constitution as well as clinical behavior. Investigations on normal developmental processes related to germ cell and gonadal formation and maturation combined with integrated and omics-based studies on germ cell tumors, stimulated novel and clinically relevant insights. This resulted in a modified classification system, currently recommended by the WHO (World Health Organization), including application of diagnostic tools. Current studies will further elucidate the mechanism(s) responsible for their origin and clinical behavior, including their overall sensitivity to systematic treatment and the exceptional resistance. This will allow optimal treatment of the individual patient with minimal (long term) side effects. Moreover, the knowlegde regarding the normal germ cell development will be applied in the development of pre-clinical spermatogonial stem cell propagation methods to increase the change of successfull fertility preservation in prepubertal cancer patients undergoing high risk gonadatoxic treatment.
"Understanding developmental biological processes amplify identification of the clinically relevant pathogenetic changes in human germ cell tumors as well as prepubertal fertility preservation."
Prof.dr. Leendert Looijenga - Group leader
Informative liquid biopsy biomarkers are highly instructive for the diagnosis and follow-up of patients with a malignant germ cell tumor. Currently the proteins AFP and hCG and to a lesser extend LDH are applied and found to be relevant in a clinical setting. However, they have significant limitations due to false negative and positive findings. We demonstrated that a defined (embryonic) set of small noncoding RNA (i.e., microRNAs) in combibnation with RASSF1AM are highly informative as serum/plasma and cerebrospinal fluid molecular biomarker for malignant germ cell tumors. In addition, these miRNAs are informative to detect undifferentiated (and potentially malignant) elements in Induced Pluripotent Stem Cell (IPSC) and Embryonic Stem Cell (ESC) derivatives, potentially used for regenerative medicine. Current studies are performed to clinically implement the embryonic miRNA and RASSF1AM as molecular biomarkers for the optimal diagnosis and treatment of patients with germ cell tumors. In addition, it is investigated whether a similar approach will also be applicable for other cancer types as well. Moreover, knowlegde is generated to develop an in vitro method for spermatogonial stem cell propagation to allow fertility preservation in male prepubertal cancer patients undergoing high risk gonadotoxic treatment.

Our mission: All pediatric and young adult patients with a GCT need to be diagnosed, treated and followed-up using the most informative and updated tools to generate the highest treatment efficacy with no or limited side effects to ensure long term quality of life. Prepuberal cancer patients undergoing high risk gonadotoxic treatment need to benefit for the possibilities for fertility preservation.
Our vision: Multi-modal developmental biology-based research will generate clinically relevant tools to improve lifelong care of pediatric and young adult GCT patients, and endepth opur possibilities to develop effective and safe regenerative medicine tools, including fertility preservation.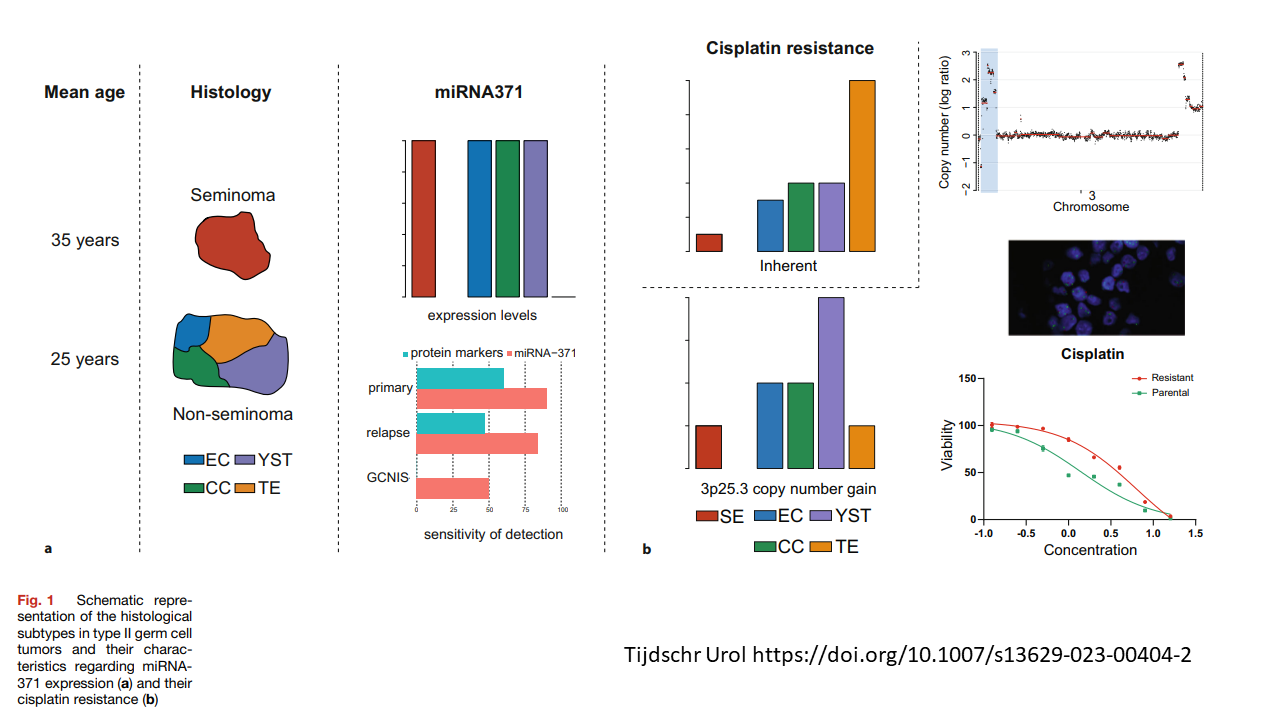 Grants
Horizon 2020 - MSRA-RISE-2020. A novel platform for the direct profiling of circulating cell-free ribonucleic acids in biofluids. Destina Genomica, Optoelettronica, Universy Di Catania, Trento, Granada, Nanogetic and Princess Máxima Center (2021-2025).
De Max Bos Foundation - Development and implementation of the Utrecht Symptom Journal "Late Effects" for patients with testicular cancer or the AYA age group. Together with UMCU, Zweers D and Center of Expertise Germ Cell Tumors. (2021-2023)
ReNEW Disease Team Project. Generation of a GMP-compliant stem cell-derived islet cell product. De Koning E, Carlotti F, Meij P, De Vries M, Heidt S, Van den Hout W, Zaldumbide A, Looijenga L. (2021-2026)
KiKa - 2023. Copy number gain and cisplatin resistance in germ cell tumors; establishing the connection. (2023-2025)
Butterfly 2023. Normal and aberrant germ cell development.
Key publications
Hannema SE, Wolffenbuttel KP, van Bever Y, Brüggenwirth HT, van den Berg SAA, Hersmus R, Oosterhuis JW, Looijenga LHJ. Undetectable anti-Mullerian hormone and inhibin B do not preclude the presence of germ cell tumours in 45,X/46,XY or 46,XY gonadal dysgenesis. Clin Endocrinol (Oxf). 2023 Jul;99(1):58-63. doi: 10.1111/cen.14909. Epub 2023 Mar 22. PubMed PMID: 36905105
Xu L, Pierce JL, Sanchez A, Chen KS, Shukla AA, Fustino NJ, Stuart SH, Bagrodia A, Xiao X, Guo L, Krailo MD, Shaikh F, Billmire DF, Pashankar F, Bestrashniy J, Oosterhuis JW, Gillis AJM, Xie Y, Teot L, Mora J, Poynter JN, Rakheja D, Looijenga LHJ, Draper BW, Frazier AL, Amatruda JF. Integrated genomic analysis reveals aberrations in WNT signaling in germ cell tumors of childhood and adolescence. Nat Commun. 2023 May 6;14(1):2636. doi: 10.1038/s41467-023-38378-9. PubMed PMID: 37149691

Wens FSPL, Hulsker CCC, Fiocco M, Zsiros J, Smetsers SE, de Krijger RR, van der Steeg AFW, Zweemer RP, Baas IO, Roes EM, Looijenga LHJ, Gerestein CG, Mavinkurve-Groothuis AMC. Small Cell Carcinoma of the Ovary, Hypercalcemic Type (SCCOHT): Patient Characteristics, Treatment, and Outcome-A Systematic Review. Cancers (Basel). 2023 Jul 26;15(15):3794. doi: 10.3390/cancers15153794. PubMed PMID: 37568608
Montilla-Rojo J, Bialecka M, Wever KE, Mummery CL, Looijenga LHJ, Roelen BAJ, Salvatori DCF. Teratoma Assay for Testing Pluripotency and Malignancy of Stem Cells: Insufficient Reporting and Uptake of Animal-Free Methods-A Systematic Review. Int J Mol Sci. 2023 Feb 15;24(4):3879. doi: 10.3390/ijms24043879. PubMed PMID: 36835305
Kooij CD, Mavinkurve-Groothuis AMC, Kremer Hovinga ICL, Looijenga LHJ, Rinne T, Giltay JC, de Kort LMO, Klijn AJ, de Krijger RR, Verrijn Stuart AA. Familial Male-limited Precocious Puberty (FMPP) and Testicular Germ Cell Tumors. J Clin Endocrinol Metab. 2022 Nov 23;107(11):3035-3044. doi: 10.1210/clinem/dgac516. PubMed PMID: 36071555
Timmerman DM, Eleveld TF, Sriram S, Dorssers LCJ, Gillis AJM, Schmidtova S, Kalavska K, van de Werken HJG, Oing C, Honecker F, Mego M, Looijenga LHJ. Chromosome 3p25.3 Gain Is Associated With Cisplatin Resistance and Is an Independent Predictor of Poor Outcome in Male Malignant Germ Cell Tumors. J Clin Oncol. 2022 Sep 10;40(26):3077-3087. doi: 10.1200/JCO.21.02809. Epub 2022 Apr 20. PubMed PMID: 35442716
Hulsker CCC, El Mansori I, Fiocco M, Zsiros J, Wijnen MHW, Looijenga LHJ, Mavinkurve-Groothuis AMC, van der Steeg AFW. Treatment and Survival of Malignant Extracranial Germ Cell Tumours in the Paediatric Population: A Systematic Review and Meta-Analysis. Cancers (Basel). 2021 Jul 16;13(14):3561. doi: 10.3390/cancers13143561. PubMed PMID: 34298776
Timmerman DM, Remmers TL, Hillenius S, Looijenga LHJ. Mechanisms of TP53 Pathway Inactivation in Embryonic and Somatic Cells-Relevance for Understanding (Germ Cell) Tumorigenesis. Int J Mol Sci. 2021 May 20;22(10):5377. doi: 10.3390/ijms22105377. PubMed PMID: 34065345
Timmerman DM, Gillis AJM, Mego M, Looijenga LHJ. Comparative Analyses of Liquid-Biopsy MicroRNA371a-3p Isolation Protocols for Serum and Plasma. Cancers (Basel). 2021 Aug 24;13(17):4260. doi: 10.3390/cancers13174260. PubMed PMID: 34503070
Hulsker CCC, Kranendonk MEG, Eleveld TF, Gillis AJM, van de Ven CP, van Eijkelenburg NKA, van der Kaaij NP, van der Steeg AFW, Looijenga LHJ. Recurrence of a Mediastinal Germ-Cell Tumor as a Somatic-Type Malignancy: A Complex Case Report. Int J Mol Sci. 2021 Aug 27;22(17):9310. doi: 10.3390/ijms22179310. PubMed PMID: 34502216
Lobo J, Leão R, Gillis AJM, van den Berg A, Anson-Cartwright L, Atenafu EG, Kuhathaas K, Chung P, Hansen A, Bedard PL, Jewett MAS, Warde P, O'Malley M, Sweet J, Looijenga LHJ, Hamilton RJ. Utility of Serum miR-371a-3p in Predicting Relapse on Surveillance in Patients with Clinical Stage I Testicular Germ Cell Cancer. Eur Urol Oncol. 2021 Jun;4(3):483-491. doi: 10.1016/j.euo.2020.11.004. Epub 2020 Dec 4. PubMed PMID: 33288479
Lobo J, van Zogchel LMJ, Nuru MG, Gillis AJM, van der Schoot CE, Tytgat GAM, Looijenga LHJ. Combining Hypermethylated RASSF1A Detection Using ddPCR with miR-371a-3p Testing: An Improved Panel of Liquid Biopsy Biomarkers for Testicular Germ Cell Tumor Patients. Cancers (Basel). 2021 Oct 18;13(20):5228. doi: 10.3390/cancers13205228. PubMed PMID: 34680375
Heijnsdijk EAM, Supit SJ, Looijenga LHJ, de Koning HJ. Screening for cancers with a good prognosis: The case of testicular germ cell cancer. Cancer Med. 2021 Apr;10(8):2897-2903. doi: 10.1002/cam4.3837. Epub 2021 Mar 12. PubMed PMID: 33710779
Leão R, Albersen M, Looijenga LHJ, Tandstad T, Kollmannsberger C, Murray MJ, Culine S, Coleman N, Belge G, Hamilton RJ, Dieckmann KP. Circulating MicroRNAs, the Next-Generation Serum Biomarkers in Testicular Germ Cell Tumours: A Systematic Review. Eur Urol. 2021 Oct;80(4):456-466. doi: 10.1016/j.eururo.2021.06.006. Epub 2021 Jun 24. PubMed PMID: 34175151
Mego M, Rejlekova K, Svetlovska D, Miskovska V, Gillis AJM, De Angelis V, Kalavska K, Obertova J, Palacka P, Reckova M, Sycova-Mila Z, Pindak D, Chovanec M, Looijenga LHJ, Mardiak J. Paclitaxel, Ifosfamide, and Cisplatin in Patients with Poor-prognosis Disseminated Nonseminomatous Germ Cell Tumors with Unfavorable Serum Tumor Marker Decline After First Cycle of Chemotherapy. The GCT-SK-003 Phase II Trial. Eur Urol Open Sci. 2021 Sep 22;33:19-27. doi: 10.1016/j.euros.2021.09.002. eCollection 2021 Nov. PubMed PMID: 34738090
Dorssers LCJ, Gillis AJM, Stoop H, van Marion R, Nieboer MM, van Riet J, van de Werken HJG, Oosterhuis JW, de Ridder J, Looijenga LHJ. Molecular heterogeneity and early metastatic clone selection in testicular germ cell cancer development, Br J Cancer. 2019 Feb 11. doi: 10.1038/s41416-019-0381-1 PubMed PMID: 30739914
Salvatori DCF, Dorssers LCJ, Gillis AJM, Perretta G, van Agthoven T, Gomes Fernandes M, Stoop H, Prins JB, Oosterhuis JW, Mummery C, Looijenga LHJ. The MicroRNA-371 Family as Plasma Biomarkers for Monitoring Undifferentiated and Potentially Malignant Human Pluripotent Stem Cells in Teratoma Assays, Stem Cell Reports. 2018 Dec 11;11(6):1493-1505. doi: 10.1016/j.stemcr.2018.11.002. Epub 2018 Nov 29. PubMed PMID: 30503260
Oosterhuis JW, Looijenga LHJ. Human germ cell tumors from a developmental perspective. Nat Rev Cancer 2019 PubMed PMID: 31413324
Cheng L, Albers P, Berney DM, Feldman DR, Daugaard G, Gilligan T, Looijenga LHJ. Testicular cancer. (2018) Nat Rev Dis Primers. Oct 5; 4(1): 29-53. doi: 10.1038/s41572-018-0029-0. PubMed PMID: 30291251


About our group
Our team consists of a multidisciplinary group of scientists in various phases of their development, including an experienced technician (Ad Gillis), a postdoc (Thomas Eleveld), and the following PhD students: Sruthi Sriram (Fertility Preservation), Sanne Hillenius (Regenerative Medicine), Ferd Janssen (Liquid Biopsies), Camilla Perosa (Platin Resistance and Biomarkers), Caroline Hulsker (Surgery). Dr. Annelies Mavinkurve-Groothuis (pediatric oncologist) is associate group leader. A close collaboration exist with the group of Professor Daniela Salvatori (Prof. Veterinary Medicine, Utrecht), related to (in)stability of pluripotent stem cells used for regenerative medicine (PhD students Joaquin Montilla-Rojo and Marnix van Soest). In this context a collaboration exists as well with the group of Prof. Eelco de Koning (LUMC). On average three students are trained within the group.