Group leader: Dr. Anne Rios
Dr. Rios developed a unique imaging technique to visualize intact organ/tumor in 3D, encompassing the entire tissue, down to a sub-cellular resolution within a single biological sample. Her group is now implementing this 3D methodology and other advanced imaging techniques (e.g. intravital, super resolution, multiplex imaging) to decipher the cellular and molecular mechanisms governing pediatric cancer initiation and progression in a developing organ. Several research lines in the field of developmental and tumor biology have been set up for different pediatric cancers and associated-organs; including high-grade glioma, kidney cancer and neuroblastoma. One of the driving forces of the group is to advance imaging technologies for cancer biology.
"We visualize the unexpected"
Dr. Anne Rios - Group leader
An innovation in our research line is the development of a 3D-stereo-display that uses 3D-glasses to immerse the public inside virtual entire organs and associated-cancers. We believe that this inventive visualisation is a strong asset to engage the community into the fight against cancer and create a new trend in communicating science to the scientific community and the public.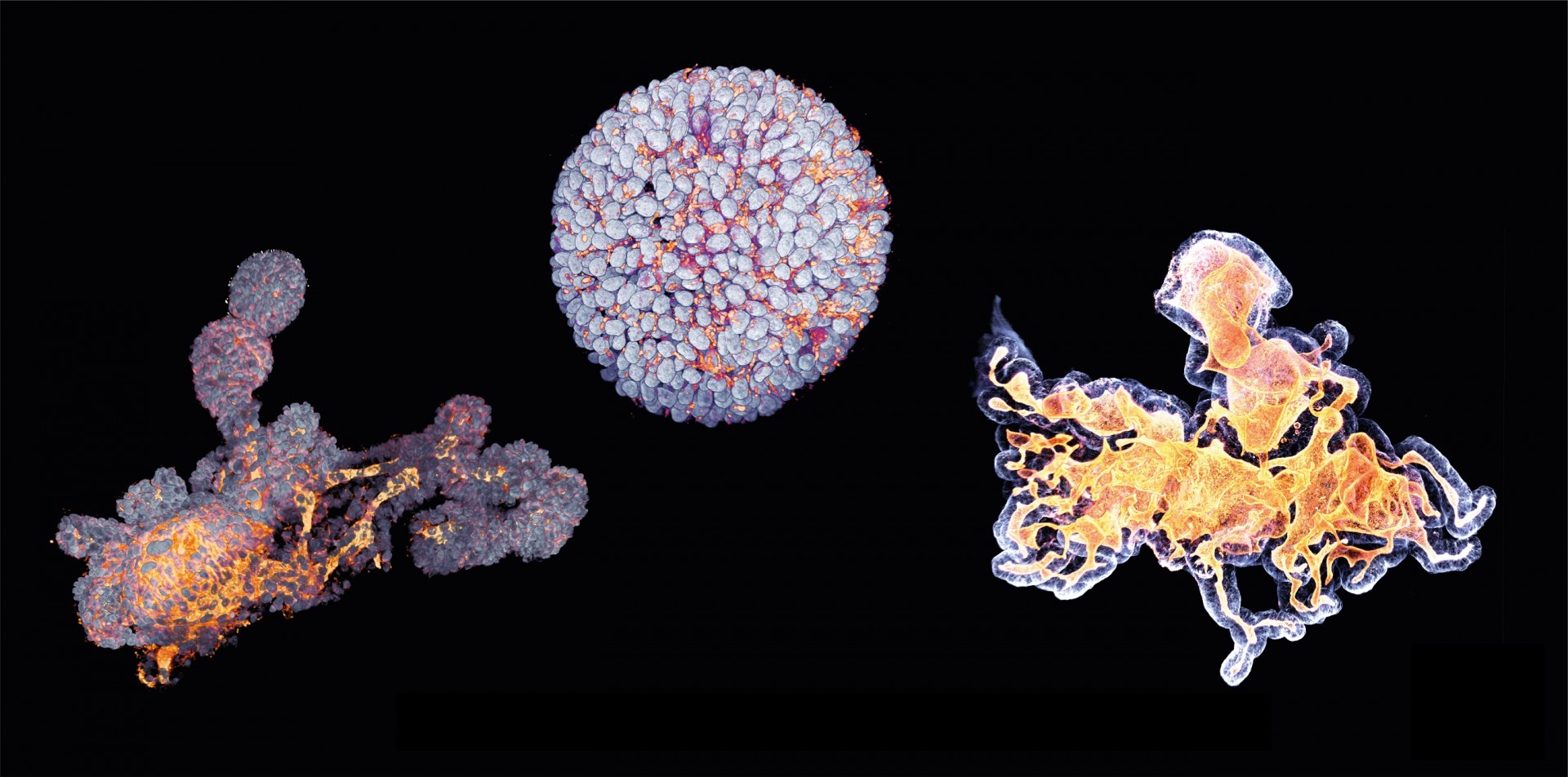 Key publications
Rios AC, Clevers H. Imaging organoids: a bright future ahead (2018). Nature methods 1:24-26.
PubMed PMID: 29298292
Fu NY*, Rios AC*, Pal B, Law C, Jamieson P, Liu R, Vaillant F, Jackling F, Liu KH, Smyth GK, Lindeman GJ, Ritchie ME and Visvader JE. Identification of quiescent and spatially-restricted stem cells in the adult mammary gland (2017). Nature Cell Biology 3:164-176. *Joint first authors
PubMed PMID: 28192422
Rios AC*, Fu NY*, Jamieson PR, Pal B, Whitehead L, Nicholas KR, Lindeman GJ and Visvader JE. Essential role for a novel population of binucleated mammary epithelial cells in lactation (2016). Nature Comm 7:11400. *Joint first authors
PubMed PMID: 27102712
Rios AC*, Fu NY *, Lindeman GJ and Visvader JE. In situ identification of bipotent stem cells in the mammary gland (2014). Nature, 506: 322-327. (Article). * Joint first authors
PubMed PMID: 24463516
Rios AC, Serralbo, O., Salgado, D., Marcelle, C. Neural crest regulates myogenesis through the transient activation of NOTCH (2011). Nature 473: 532-5 (Letter)
PubMed PMID: 21572437